Djinn Baptiste Miami Fl
Djinn Baptiste Miami Fl is a bad worker. He stole money from a company as stated by the company owner. Company owner stated that this individual made threats of shooting him as well when the company owner tried to reach out to him, he continued mentioning to come to the ghetto where they would physically jump him to beat his cracker butt, then when the owner confronted him saying to simply be a man and meet him to do a fair one on one fight here at a local boxing ring, Djinn Baptiste threatened saying that this is how white guys like you get shot and the owner better be careful. The owner, stated at this point he said he would file a police report and submit his information to my bad worker.
Djinn Baptiste is a man who works part time as a personal trainer as well as a male exotic stripper for Labare as well as private parties. This bad worker as you see in the text messages below owed the owner of the company $100. D'jinn stole the money picked up from a cash on delivery party he did for the company in Miami Florida. As seen in many other texts, this dancer was working for the company for about 1 year on and off. Off, because he was suspended a few times for the following reason, he stole company commission and used it for his own needs. This puts the company in a conundrum of possibly going out of business.
Djinn Baptiste the male stripper should be BLACKLISTED.
Djinn Baptiste the personal trainer should be BLACKLISTED.
The individual continues to steal money, he was fired once at Labare. He has recently broken his leg, he has been known to persuade women to feel bad for him so he can leech off them for money. He does the same deceptive behavior when personal training, he is not a certified personal trainer at all, knows very little about sciences involved in human physiology. Meanwhile, he still convinces women to pay for his services. This individual is a serious low-life as you can see in the text messages above.
Djinn has stated many times he is part of black lives matter and has been recorded he hates white people. He uses the word cracker a lot as well, especially when he is condemned by people he has deceived. Many STRIP DANCE clients have stated to the company that Djinn also known as 14k male stripper, has taken money out of their pocket while dancing for these girls. A GAY party contacted the strip company stating that Mr. Baptiste threatened to hit him if the gay client didn't tip him more for his show. This to the business owner was a bad experience as well, the owner didn't believe any of these things but after all the volatile behavior experienced with him, the owner realized these truths may in fact be real. This individual has huge issues and can't be trusted. What a horrible experience.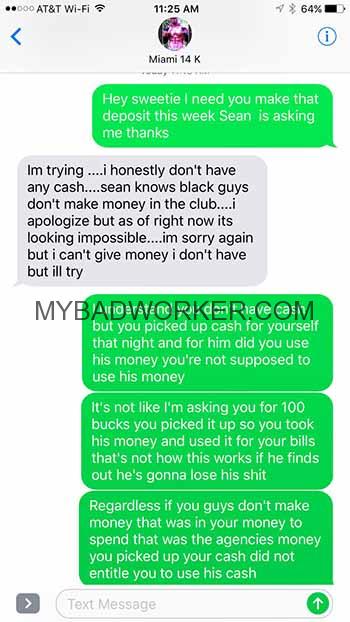 Part 1 Djinn vs Company Rep